Oral Surgeon
Dr. Blake Porter
North Mesa, Arizona | Queen Creek, Arizona | Show Low, Arizona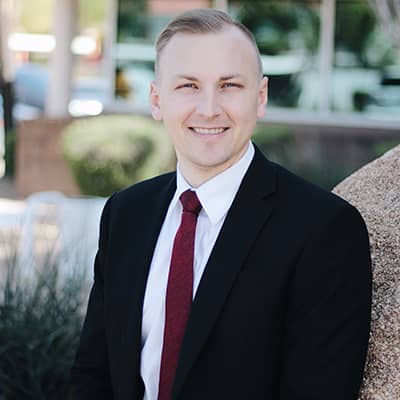 Dr. Blake Porter, DMD
"My priority as a surgeon is to provide excellent care to each patient that walks through the doors at AZ Max. Through my rigorous training, I am qualified and prepared to handle all of the individual needs that each patient requires."
Raised in the East Valley, Dr. Blake Porter grew up working at AZ Max as soon as he was old enough to hold a job. Fast forward to today, and he is now a highly educated and accomplished dental professional.
He completed his undergraduate years at Utah Valley University, which led to acceptance into the Arizona School of Dentistry and Oral Health at A.T. Still University, from which he graduated in 2018 with honors. He was inducted into the prestigious National Dental Honor Society and received the Omicron Kappa Upsilon award for excellence in dental education. He then completed his residency training at the University of Iowa College of Dentistry.
Dr. Blake Porter specializes in third molar removal (wisdom teeth), bone grafts, and implants, including full mouth reconstruction. Orthognathic surgery, arthrocentesis, biopsy, and treatment of oral pathology. He loves his work and takes great satisfaction in helping people regain their smiles and improve their lives.
More About Dr. Porter
Along with his many professional accomplishments, Dr. Porter is also a family man. He married his wife Nicole in 2011, and they have three boys. Blake and Nicole are foodies and love exploring the city for new places to eat. They love trying new foods and particularly enjoy sushi, Backyard Taco, and Five Guys.
To keep up with his three boys, he makes sure he stays physically fit by weightlifting and participating in triathlons. He has completed the Tour de Mesa and has done multiple sprint triathlons. He is also an avid golfer and loves being out on the beautiful Arizona golf courses.
If he isn't playing board games with his sons, reading a novel, or pumping iron in the gym, you'll find him at the State Farm Stadium cheering on the Cardinals or at the court rooting for the Suns. To say he's a fan is an understatement!
Another accomplishment he is very proud of is receiving the Eagle Scout award. He has also held various leadership positions within his church. Helping people in his professional and personal life has always been a top priority.
If you are in North Mesa, stop in and say hello! Dr. Blake Porter practices at the North Mesa, Queen Creek, and Show Low locations. Don't delay in starting your journey to a beautiful smile. To schedule an appointment, call or text (480) 830-5866 or complete the online booking form.