Oral Surgeon
Dr. Bradley Porter
North Mesa, Arizona | Queen Creek, Arizona | Show Low, Arizona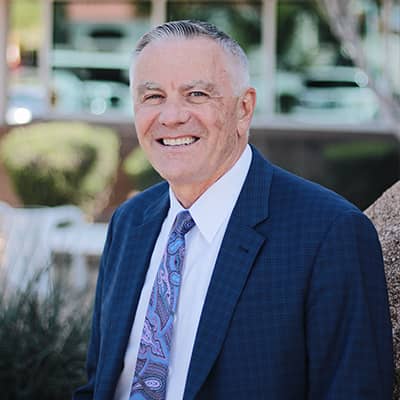 Dr. Bradley Porter, DDS, MS

"My patients deserve the best. I do my best, so they have something to smile about."
Hi, I'm Dr. Bradley Porter. I graduated from BYU with a degree in dental science before attending the University of Iowa College of Dentistry for my dental degree. I then completed an oral and maxillofacial surgery residency at the University of Iowa Hospitals and Clinics, which is where I also became board certified in oral and maxillofacial surgery.
I am currently an adjunct faculty member at the Arizona School of Dentistry and Oral Health. I also volunteer my time serving low-income and homeless patients at the Brighterway Dental Clinic. I have also been on dental missions in Central America.
More About Dr. Porter
As a youth, I enjoyed being part of the Boy Scouts of America and achieved Eagle Scout rank. Being part of BSA had such an impact on me as a youth that I became a Boy Scout leader as an adult and won the Silver Beaver Award. Serving others and helping the less fortunate has always been my passion, and this passion motivated me to serve a church mission in Japan as a young adult.
Being active and pushing my body to its limits is a passion that burns within me. I have competed in 9 Ironman events, including the Ironman World Championship in Kona, Hawaii, and I have also competed twice in the Boston Marathon.
I enjoy mountaineering and have climbed mountains in Africa, Argentina, and Russia. If I'm not on a mountain, you'll find me mountain biking, road cycling, trail running, scuba diving, or fishing. Give me a trail to run, a mountain to climb, or a road to cycle, and I'm a happy man!
I have a wonderful wife named Jan and 5 amazing kids. We are avid Phoenix Suns fans and attend as many games as we can during the season.
Orthognathic (jaw) Surgery
Helping others has always been my main priority, and that is exactly why I became an oral and maxillofacial surgeon. Being able to change lives for the better has brought me so much joy and satisfaction. I have a passion for jaw reconstructive surgery to correct facial deformities and malocclusions (bad bites). I also enjoy removing wisdom teeth, restoring smiles with dental implants, and diagnosing and treating oral pathology lesions. I also specialize in sedation dentistry and anesthesia, and tooth extractions.
If you are in North Mesa, pop into the office at 6806 E Brown Rd and say hello! Dr. Bradley Porter works out of our locations in Queen Creek, Brown Rd, and Show Low. To schedule an appointment with Dr. Porter or any of our skilled surgeons, call (480) 830-5866 or complete the online booking form.