Oral Surgeon
Dr. Gregory Romney
Queen Creek, Arizona | Mesa, Arizona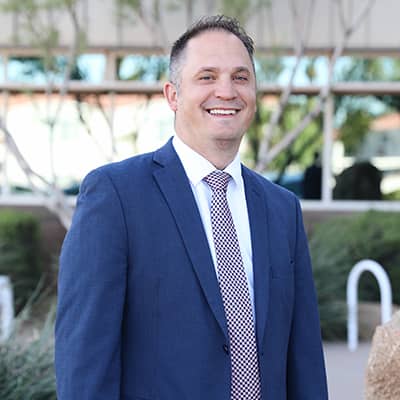 Dr. Gregory Romney, DMD
"My patients are my main priority. I focus not only on the procedure, but the patient, their support system, and their referring doctor. I strive to make your experience in my chair a memorable one. I want your visit, from start to finish, to be as stress-free as possible."
I am Dr. Greg Romney, a dentist and oral and maxillofacial surgeon. I have always been interested in helping others, which is why I chose dentistry as my profession.

I graduated Summa Cum Laude from Brigham Young University and then went on to study Dentistry and Oral Health at the Arizona School of Dentistry. As a dental student, I received the Dental Public Health Residency Certificate. This gave me experience in providing dental care to underserved populations both in the United States and abroad.
I continued my education at the Banner University Medical Center in Phoenix; a joint venture between the University of Arizona and Banner Hospitals. I was the first graduating resident from my program at Banner, which gave me the opportunity to perform many more cases/procedures than most other programs and residents.
Services I Offer
I am a board-certified diplomate of the American Board of Oral and Maxillofacial Surgery, and have been published in both scientific journals as well as a textbook.
A part of the job I really enjoy is working with the pediatric population. I work closely with a pediatric anesthesiologist to provide the best possible care for my young patients.
Some of the services I offer to all of my patients include:
Our Process
As a team, we are constantly striving to improve our methods and provide the best possible care for our patients. Our bone grafting techniques are minimally invasive, ensuring that our patients heal quickly with minimal disruption to their life.
When we do full-arch restorations, we work closely with the lab and dentists to make the best possible restorations for the patient and to provide the best possible care. When planned correctly with all of the necessary parties (lab, dentist, surgeon), the patient can typically leave with teeth the same day as the surgery.
When a patient requires tooth extraction, we are able to place a temporary tooth on anterior implants (front tooth) on the same day. This benefits the patient because it allows for better long-term esthetics and fewer procedures and allows the patient to leave with a tooth and not a missing tooth space.
All of our procedures are planned with the patient's well-being in mind. We want our patients to leave with the best possible result and to heal quickly and without any problems.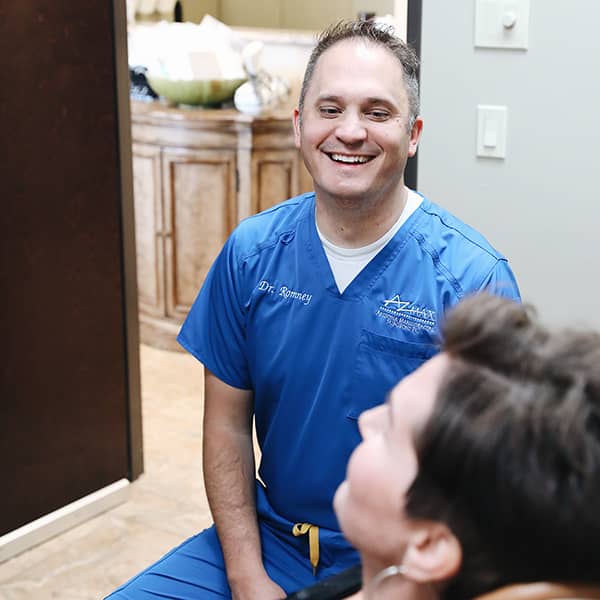 More About Dr. Romney
The best part of me and who I am are the children that I am raising with my lovely wife. We have five children, three boys, and two girls. My wife and I met in graduate school, and she became a physical therapist. My older boys play soccer, and my oldest daughter plays volleyball.
I enjoy pickleball with anyone who will play with me. I love to do anything outdoors, including hiking, skiing, and fishing (pretty fish only, i.e., trout). Participating in and watching my kids play sports is one of my favorite things to do. And, as corny as it sounds, I love singing and dancing – I feel like music moves through me!
I am passionate about helping others, and I believe that everyone deserves access to quality dental care. That's why I decided to become a dentist – to help people achieve healthier smiles and better lives. I look forward to meeting you and your family and helping you on your way to a better smile.
I currently work out of our offices at Superstition Springs Blvd in Mesa, AZ, and Rittenhouse Rd in Queen Creek, AZ. To book an appointment with Dr. Greg Romney or any of our surgeons, call (480) 830-5866 or complete the online booking form.