Oral Surgeon
Dr. R. Brinks Austin
North Mesa, Arizona, | Tempe, Arizona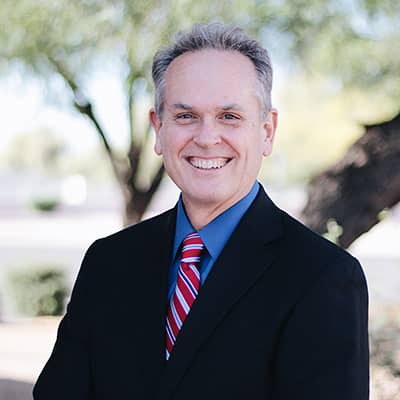 Dr. R. Brinks Austin, DDS, MD
"Nature keeps me grounded. Family keeps me loving. Education keeps me growing. My Creator keeps me hoping."
Hello! I'm Dr. Brinks Austin. I earned my Bachelor of Science degree in Chemistry from Graceland University in Lamoni, IA. Afterward, I attended the University of Iowa College of Dentistry and received my Doctor of Dental Surgery degree. I was inducted into the National Dental Honor Society, Omicron Kappa Upsilon, for my outstanding academic and clinic achievement.
I then completed an Oral and Maxillofacial Surgery Residency at the University of Alabama at Birmingham School of Dentistry. In addition, I obtained my Doctor of Medicine degree from the University of Alabama at Birmingham School of Medicine.
I specialize in wisdom tooth removal, tooth extraction, dental implants, and sedation dentistry & anesthesia. My specialties also include oral diagnosis and biopsies, arthroscopy for TMJD, bonding and brackets, and bone grafting.
More About Dr. Austin
I've been married to my wife Nancy since 1980. I'm grateful for her love and support, which has helped me grow in many ways. We're blessed to have four grown children and eight grandchildren. "Nana and Papa" run a B&B for our grandkids, which we love.
In my free time, I love to garden because it helps me stay "grounded." I also enjoy spending time on a live river because it feeds my soul. I love fishing on that live river because it feeds my tummy too!
I've had the fortune of serving in various capacities through church and community opportunities. It's been a joy to help others in whatever way I can.
I can truthfully say that I love my job! I get to take care of people, and people trust me to do that. I eliminate my patient's pain, enable them to enjoy food again, and help restore their beautiful smiles. I can't think of anything else I would rather put my professional time and energy into.
My patients are so considerate and make every day a great day! Every day people ask me, "How are you doing?", "Did you get a good night's sleep?" What other job is there where so many people express their sincere desire for my well-being?
Smile To The Max
At AZ Max in Tempe, AZ, we dedicate ourselves to the utmost care of each individual. Our mission is to provide compassionate and attentive patient care using state-of-the-art procedures, technologies, and surgical techniques. Through professionalism and teamwork, we strive to create healthy and positive experiences for all who trust their care to us.
If you are in the area, stop in and say hello!
I practice at 7350 S.McClintock Dr., Suite 101, Tempe, AZ, and 6808 E Brown Rd, Mesa, AZ. I also have excellent partners who are amazing surgeons. We have office locations in the East Valley to take care of you or your loved one. We are dedicated to providing the best patient experience and look forward to showing you why we are Tempe's most trusted oral surgeons.