Locations
The Premier Oral Surgeons in Arizona
Mesa, AZ Location
6755 E. Superstition Springs Blvd. Suite 103
Mesa, AZ 85206
Office Hours
Mon-Thur: 8:00am – 5:00pm
Friday: 7:00am – 3:00pm
Sat & Sun: Closed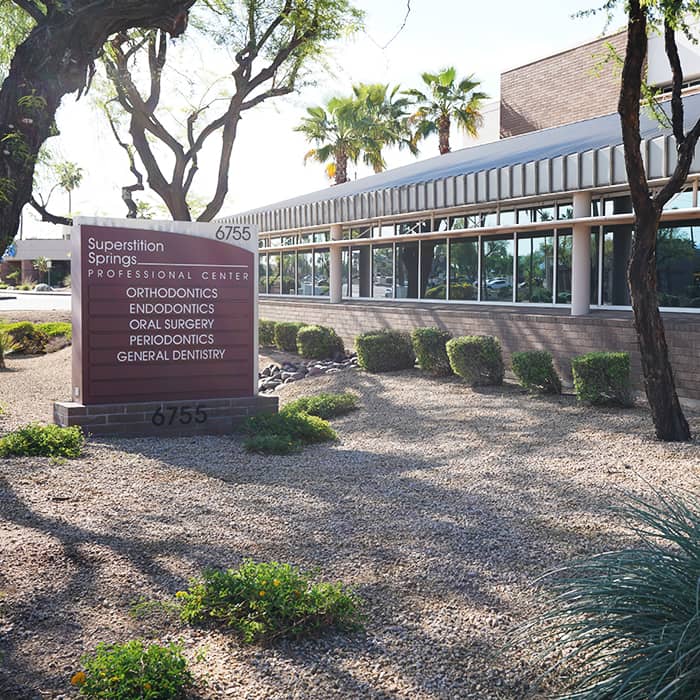 North Mesa, AZ Location
6808 E Brown Rd
Mesa, AZ 85207
Office Hours
Mon-Thur: 8:00am – 5:00pm
Friday: 7:00am – 3:00pm
Sat & Sun: Closed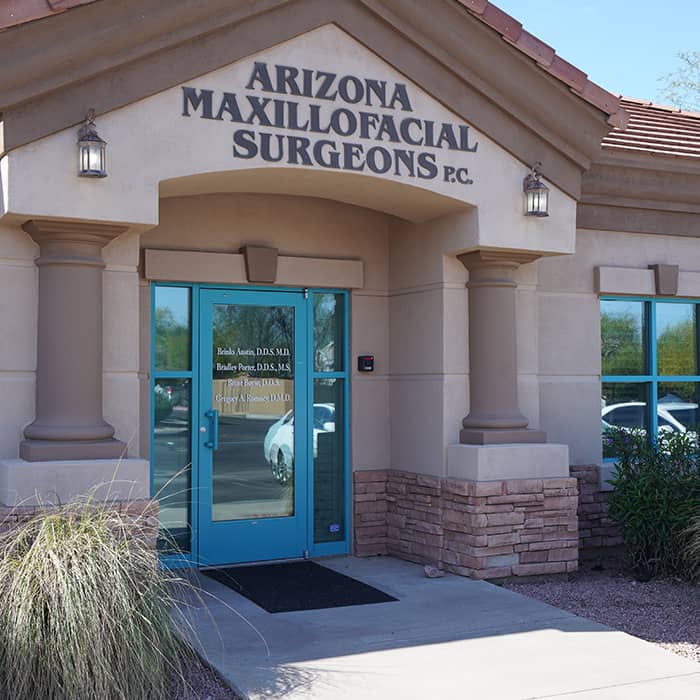 Mesa, Arizona
At AZ Max we pride ourselves on providing the best oral surgery in the Southeast Valley and we are proud to live in and serve our communities. The weather is perfect and the scenery is breathtaking. Located in the Sonoran desert and home to the towering Superstition mountains, many people come to follow the Apache trail or explore one of the many amazing hiking trails. Families can enjoy the beautiful parks, lakes and attractions like the Arizona Museum of Natural History. If you're a baseball fan, come watch the Chicago Cubs or Oakland A's during spring training. Whatever your tastes are, Arizona has something for everyone.
Dental Services
At AZ Max we offer a wide range of services from tooth extractions and wisdom tooth removal to more complex procedures such as dental implants and jaw reconstructive surgery. We also offer sedation options for those who are anxious about their procedure. Our goal is to make sure that you are comfortable and relaxed throughout your entire experience with us.
Tooth Extraction
One of the most common oral surgery procedures that we perform is tooth extraction. This is usually done when a tooth is too damaged to be repaired or if it is causing crowding in the mouth. If you're looking for an expert to extract your tooth, we can help. We use the latest technology and techniques to ensure that your procedure is quick and painless.
Wisdom Tooth Extraction
Wisdom teeth can cause a lot of problems if they are not removed. They can become impacted, which means that they are growing in at an angle and pushing against other teeth. This can cause pain, crowding, and even infection. We can evaluate your wisdom teeth and make recommendations before you have problems.
Dental Implants
Dental implants are a great option for those who have lost one or more teeth. An implant is a metal medical device that is surgically placed into the jawbone. Once the implant has healed, an artificial tooth (crown) is placed on top of it. Dental implants look and function just like natural teeth and can last a lifetime with proper care. We offer the best dental implants in Mesa. Our team of highly experienced oral surgeons will work with you to ensure that you get the best dental implant results possible.
All-On-4® Implants
All-On-4® is a type of dental implant that is used to support an entire arch of teeth. All-On-4® implants are a great option for those who want to avoid wearing dentures or who want to improve the fit of their dentures. Come in for a consultation if your looking for All-On-4® implants in Mesa.
Oral Diagnosis
Oral surgery is just one part of what we do at AZ Max. We also offer oral diagnosis, which is the process of assessing your oral health and determining if you have any oral problems. This can be done through a physical examination, X-rays, and other diagnostic tests. If we find any oral problems, we will work with you to develop a treatment plan.
Sedation Dentistry and Anesthesia
We understand that some people feel anxious about oral surgery. That's why we offer sedation dentistry options to help you relax during your procedure. We offer both oral and IV sedation, which can be used for any type of oral surgery procedure. If you're looking for the best sedation dentistry in Mesa, we can help.
Oral sedation is a safe and effective way to help you relax during your procedure. Oral sedation is medication given to you before your procedure. It helps you to relax and feel more comfortable during your procedure.
IV sedation is a type of sedation that is administered through an IV in the arm. This type of sedation is more effective than oral sedation and can help you feel at ease through your entire procedure.
General anesthesia is used for more invasive oral surgery procedures. General anesthesia is given through an IV and puts you into a deep sleep during your procedure. You can trust our team of oral surgeons to keep you safe and comfortable during your procedure with general anesthesia.
TMJ Arthroscopy
The temporomandibular joint (TMJ) is the joint that connects your jaw to your skull. TMJ disorders can cause pain, clicking, and popping of the jaw. We are the TMJ specialists in Mesa and can help you to find relief from your TMJ symptoms. We offer arthroscopy, which is a minimally invasive procedure that can help to relieve your TMJ symptoms.