Oral Surgeon
Dr. DJ Lemieux
Queen Creek, Arizona | Tempe, Arizona | Show Low, Arizona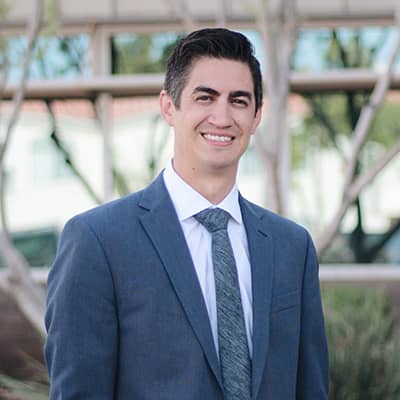 Dr. DJ Lemieux, DMD
Dr. DJ Lemieux completed his undergraduate training at Arizona State University, earning his Doctor of Dental Medicine degree in 2018. Lemieux and his family then moved to Denver, Colorado, where he completed his oral maxillofacial surgery residency at Denver Health Medical Center.
He did not, however, enter dental school with the intention of specializing in oral surgery. After being exposed to oral surgery during his training, his interest was peaked. He quickly realized that oral surgery was a blend of medicine, dentistry, and surgery, which allowed him to utilize his passion for working with his hands.
More About Dr. Lemieux
Upon completing his residency at Denver Health Medical Center, Dr. Lemieux, his wife Lacey, and their four children returned to Arizona, where he is excited to be part of the AZ Max team. He was drawn to the team's culture of excellence and knew that he could add value and contribute to the surgeons' exceptional track record.
Dr. Lemieux is a highly respected doctor who takes his responsibility to his patients very seriously. He knows that he can improve their quality of life and confidence, which drives his preparation and desire to provide unparalleled care. He is highly dedicated to his work and always puts the needs of his patients first.
In his free time, Dr. Lemieux enjoys spending time outdoors with his family. He enjoys hiking, fishing, water sports, and traveling. When he isn't outdoors, he can usually be found reading a fiction fantasy novel by Brandon Sanderson or Micheal Sullivan. Of course, being a Phoenix native, Dr. Lemieux and his wife, Lacey, are huge Phoenix Suns and AZ Cardinals fans. You may even see him around town sporting his Suns jersey from time to time!
Dr. Lemieux specializes in third molar removal (wisdom teeth), bone grafts, and implants, including full mouth reconstruction. Orthognathic surgery, arthrocentesis, biopsy, and treatment of oral pathology.
If you are in the Mesa area, stop in and say hello! Dr. Lemieux practices at the North Mesa, Queen Creek, and Show Low locations. Don't delay in starting your journey to a beautiful smile. Call or Text AZ Max Oral Surgery at (480) 830-5866 or complete the online booking form to schedule an appointment with Dr. DJ Lemieux.