As cosmetic and restorative dentistry continues to advance, more people turn to dental implants as a superior alternative to traditional methods like removable dentures. They provide numerous benefits and have the power to completely transform your smile, boosting your confidence in the process.
In this blog post, we'll go over the different types of dental implants available – single-tooth, multi-tooth, implant-supported dentures and All-on-4®.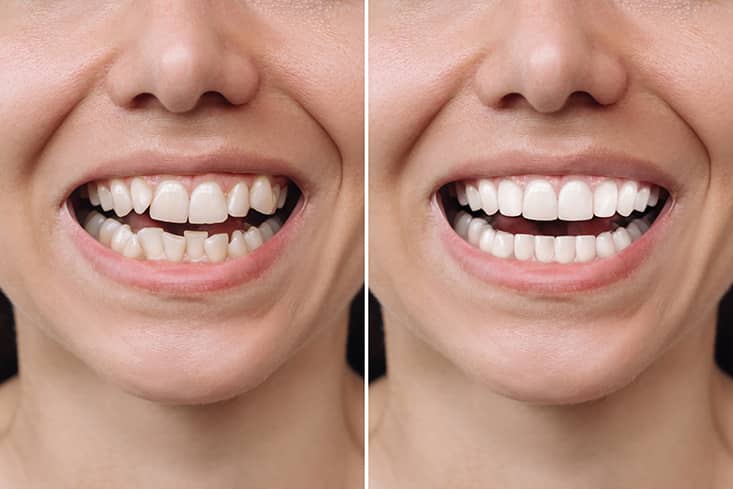 Table of Contents
Single Tooth Implant: A Simple Solution for a Single Missing Tooth
Single-tooth implants are an ideal solution if you're only missing one tooth. The dental implant procedure involves implanting a titanium post into the jawbone. The post replaces your natural tooth root and is an anchor for your replacement tooth.
Once the jawbone has bonded with the implant, a dental crown is placed on top, creating a functional and natural-looking tooth. This prevents potential shifting of surrounding teeth and helps maintain jawbone structure and overall oral health.
The healing time for a single tooth implant varies between individuals, generally ranging from 3 to 4 months. Initial healing after the implant placement is typically just a few days. After surgery, patients may experience mild discomfort, swelling, and bruising. The remainder of the healing time is for the bone and implant to integrate.
To ensure a smooth recovery, it is important to maintain good oral hygiene and to follow your surgeon's after-care instructions. Vitamin D3, calcium, and magnesium are important to aid in healing. Your surgeon may suggest that you add these supplements to your diet.
To learn why it is important to replace a lost tooth, read Why Replacing a Lost Tooth Is Important.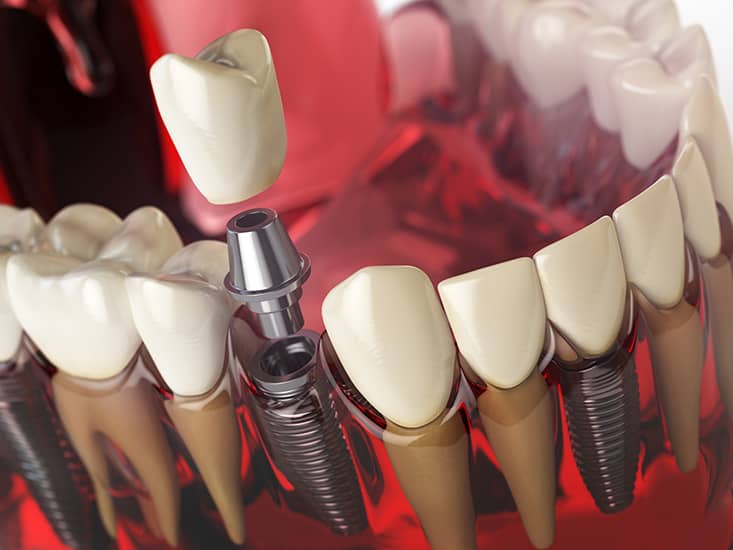 Multi-Implant Bridge: Replace Multiple Teeth
Multi-implant bridges offer a viable solution for individuals missing several teeth. They allow for a more efficient, comfortable, and secure fit compared to traditional bridges. These implants allow for natural chewing and speaking ability, prevent bone loss, and don't require the adjacent healthy teeth to be altered.
The healing process for a multi-implant bridge typically takes 3 to 4 months. During this time, temporary teeth replacements may be used to maintain aesthetics and function. Recovery may involve mild swelling, discomfort, and bruising, and may take a few days to a week. Your implant surgeon will help manage with prescribed medications and care instructions.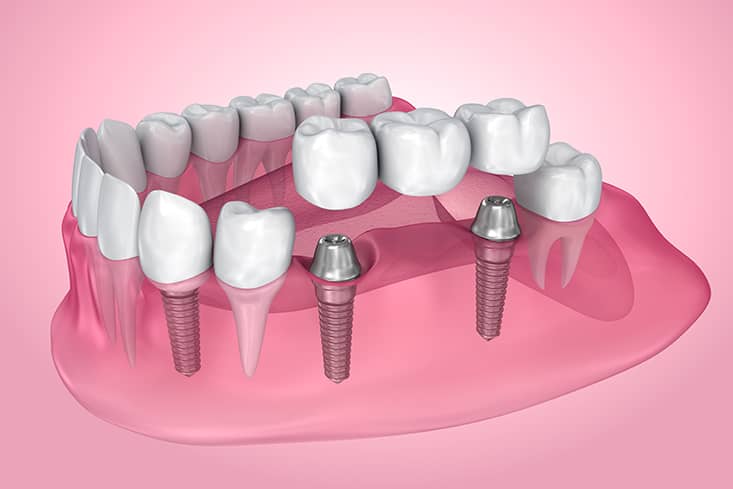 Implant-Supported Dentures: A Stable, Long-lasting Solution
Implant-supported dentures provide a more stable and secure option for patients requiring full mouth rehabilitation. They are anchored to a series of dental implants, creating a comfortable, natural-looking, and long-lasting set of teeth. This allows for improved function, preventing slippage and discomfort associated with conventional dentures.
Healing times for implant-supported dentures are similar to multi-tooth implants, with an average healing time of 3 to 4 months. Proper aftercare and follow-up appointments are necessary for successful healing and optimal results.
The choice to use an implant-supported denture over an All-on-4 or multi tooth bridge is usually based on the need for lip and facial support. Your surgeon will discuss that decision with you at your consultation.
To learn more about implant-supported dentures, read Dental Implants: Their Role in Denture Retention.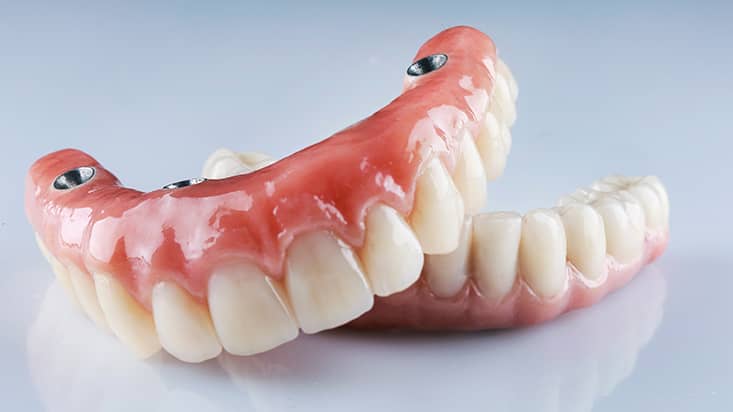 All-on-4 Implants: A Permanent Teeth Replacement
All-on-4®, also known as Teeth-in-a-day and DIEM, allows for the placement of a full arch of teeth in just one visit without having to wait for the implants to heal. This method is beneficial for individuals with bone loss in the jaw and often eliminates the need for a bone graft.
The technique involves placing 4 to 6 implants in the jaw bone at a 45-degree angle. A temporary set of teeth is attached to the implants and replaced by a permanent set once the jawbone has healed.
Recovery time for this procedure is approximately 3 to 4 months. Patients may experience discomfort during the healing period; however, prescribed medications and instructions from your surgeon will ensure a smooth recovery.
To learn more about All-on-4, read The Benefits of All-on-4 Dental Implants.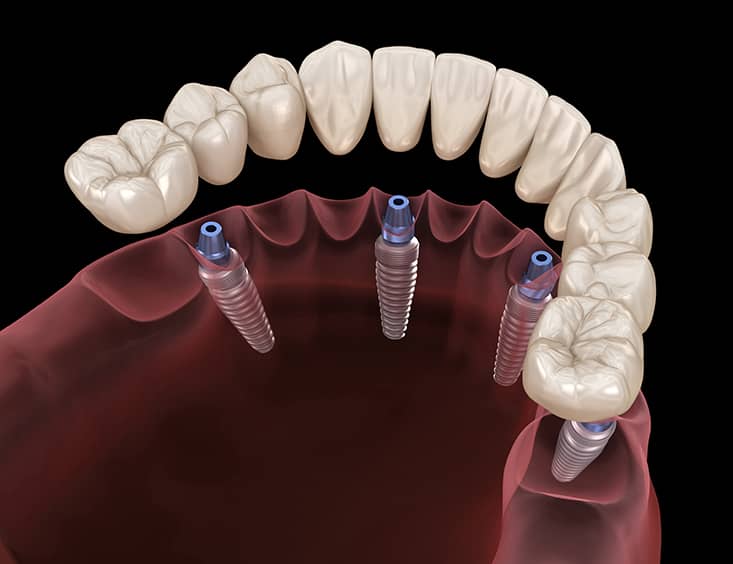 Dental implants are the best way to give your smile a makeover. The different types of dental implants available include: single-tooth, multi-tooth, implant-supported dentures and All-on-4®.
Benefits of Dental Implants
Dental implants offer a multitude of benefits, making them a popular choice for tooth replacement:
Natural appearance and comfort: Dental implants are designed to look and feel like your natural teeth, providing a comfortable fit and attractive appearance.
Improved oral health: By filling gaps left by missing teeth, dental implants can prevent surrounding teeth from shifting out of position, maintaining the proper alignment of your teeth.
Prevention of bone loss: Dental implants stimulate and preserve natural bone, helping to stimulate bone growth and prevent bone loss.
Durability: Dental implants are highly durable and can last many years, or even a lifetime with proper care.
Improved eating and speaking: Dental implants function like your own teeth, allowing you to eat foods without discomfort and speak without difficulty.
High success rate: Dental implants have a high success rate and are considered a safe tooth replacement option.
Boosted confidence: A beautiful, restored smile can greatly boost your self-esteem and confidence.
Dental Implants in Mesa
Finding a qualified oral surgeon to take care of your teeth can be a daunting task. You need someone who has the experience and expertise to provide safe and effective treatments with the best possible outcomes.
With so many options out there, it's hard to know who to trust for your oral surgery needs. You want someone who is certified, experienced, and dedicated to providing quality care.
AZ Max Oral & Maxillofacial Surgeons offers all this and more! Our Phoenix-based team of board-certified surgeons have years of medical training and experience in dental implants and other treatments – so you can rest assured that you are getting the best care available.
If you are searching for dental implant specialists in Mesa, AZ, trust the experts at AZ Max Oral Surgery. For All-On-4 implants in Mesa, AZ, All-On-4 dental implants in Tempe, AZ, and dental implants in Queen Creek, AZ and Show Low, call or text (480) 830-5866 or complete the online booking form. We also serve the communities of Gilbert, Chandler, Scottsdale, and Phoenix.
If you are searching for a smile makeover near me, trust the experts at AZ Max.